---
---
IT'S A WHOLE NEW LOOK ON YOUR CHARTPLOTTER
Featuring vibrant colors, a streamlined interface and combined coastal/inland content with a popular Navionics® style color palette, Garmin Navionics+ cartography makes it easy to plot your course with the world's No. 1 name in marine mapping1.


Navigate with our best offshore and inland lake coverage for your Garmin chartplotter.


See it your way. Customize your view with various chart layers and overlay combinations.


With your included one-year subscription, access daily updates via the ActiveCaptain® smart-device app.


Auto Guidance+™ technology2 lets you navigate with suggested dock-to-dock routings.


Select up to 10 color-shaded target depth ranges to scope out the best fishing spots.


Save money by renewing your subscription — and continue accessing daily updates plus new content downloads.
Plot your paradise on coastal or inland waters.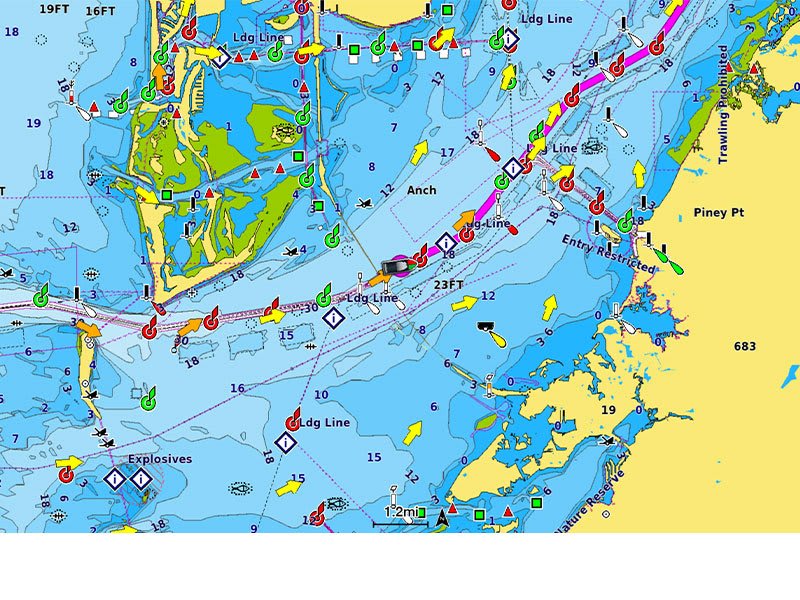 ALL-IN-ONE MAP SOLUTION FOR GARMIN CHARTPLOTTERS
Access detail-rich mapping of coastal features, lakes, rivers and more. Integrated Garmin and Navionics content offers coverage for boaters worldwide.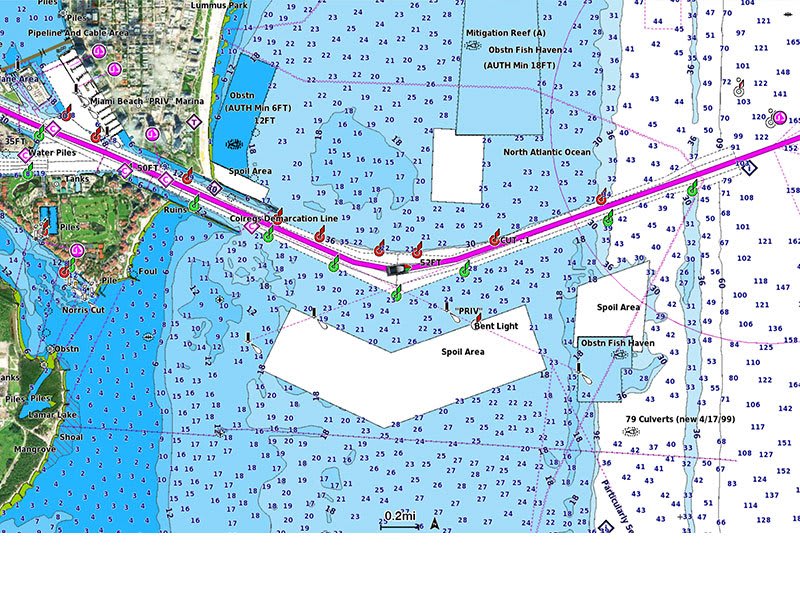 DAILY CHART UPDATES
Charts are constantly being enhanced with new and amended content — as many as 5,000 updates are made every day. The one-year included subscription gives you access to daily chart updates via the ActiveCaptain smart device app.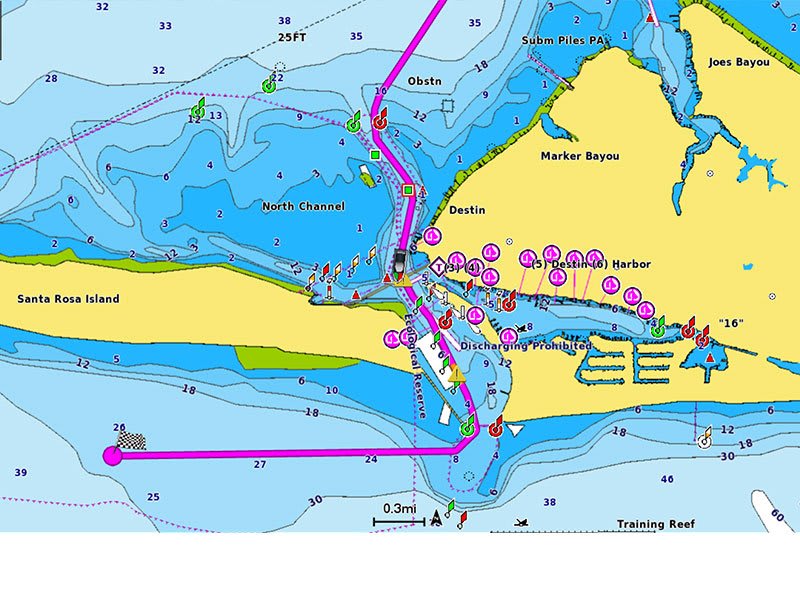 AUTO GUIDANCE+ TECHNOLOGY
Combining the best of Garmin and Navionics automatic routing features, built-in Auto Guidance+ technology2 gives you a suggested dock-to-dock path to follow through channels, inlets, marina entrances and more.
DEPTH RANGE SHADING
High-resolution depth range shading lets you select up to 10 color-shaded options and view your designated target depths at a glance.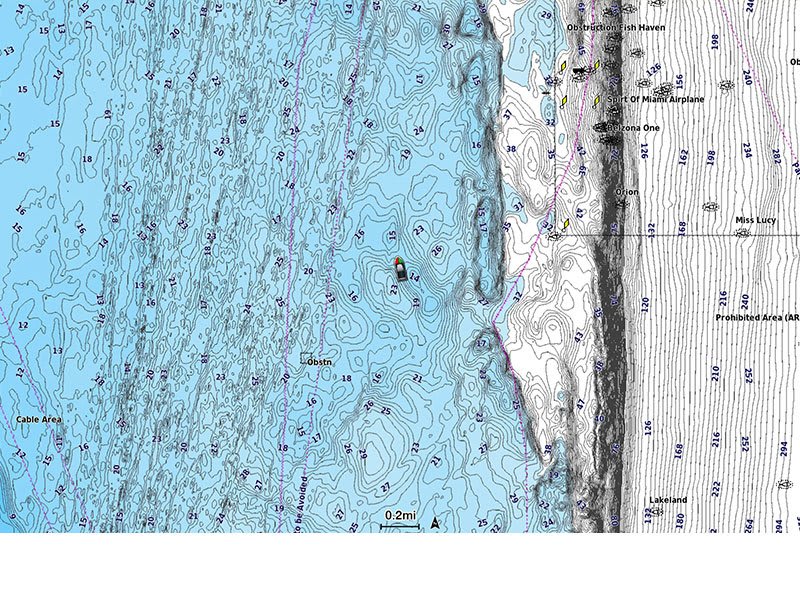 UP TO 1' CONTOURS
For improved fishing and navigation, up to 1' contours provide a clear depiction of bottom structure for improved fishing charts and enhanced detail in swamps, canals, harbors, marinas and more.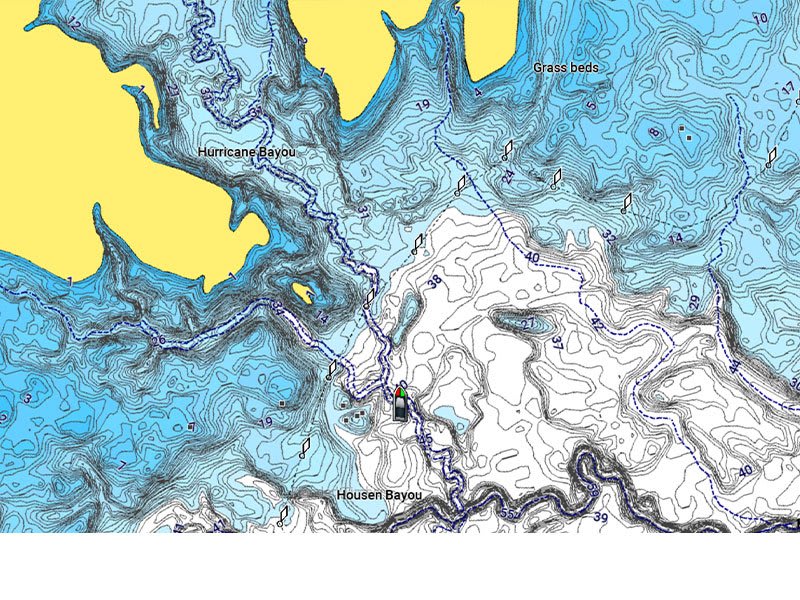 SHALLOW WATER SHADING
To give a clear picture of shallow waters to avoid, this feature allows for shading at a user-defined depth.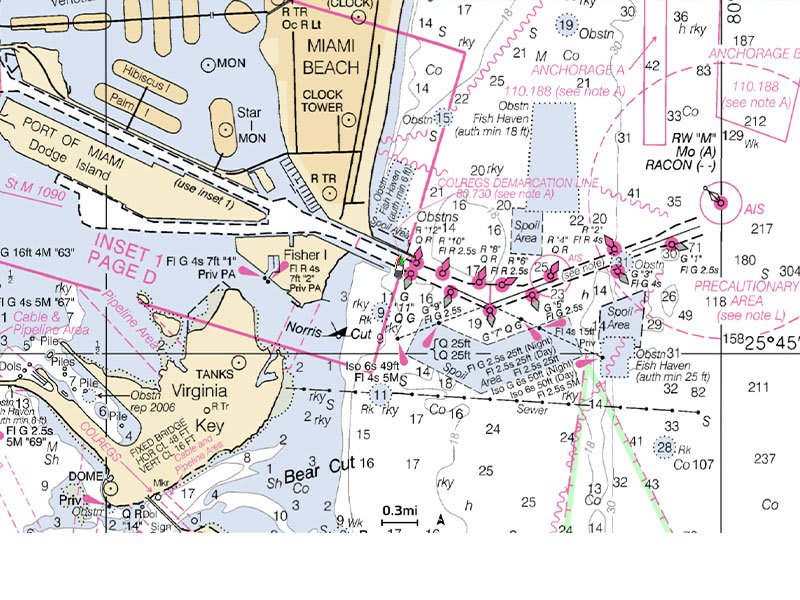 RASTER CARTOGRAPHY
NOAA raster cartography3 is available as a free downloadable feature via the ActiveCaptain app to provide paper chart-like views on your plotter.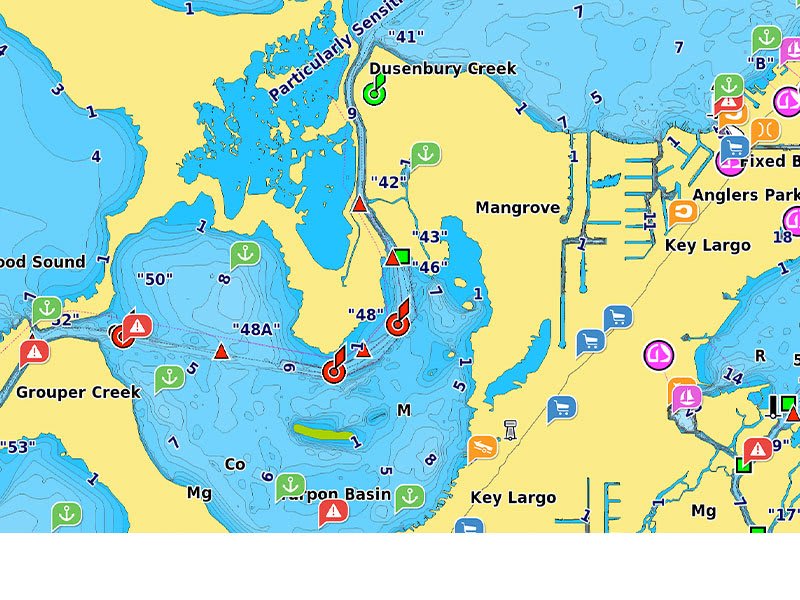 ACTIVECAPTAIN COMMUNITY
Community-sourced content provides useful POIs, such as marinas, anchorages, hazards, businesses and more. Get recommendations from boaters with firsthand experience of the local environment.
Add premium features with Garmin Navionics Vision+ mapping solutions.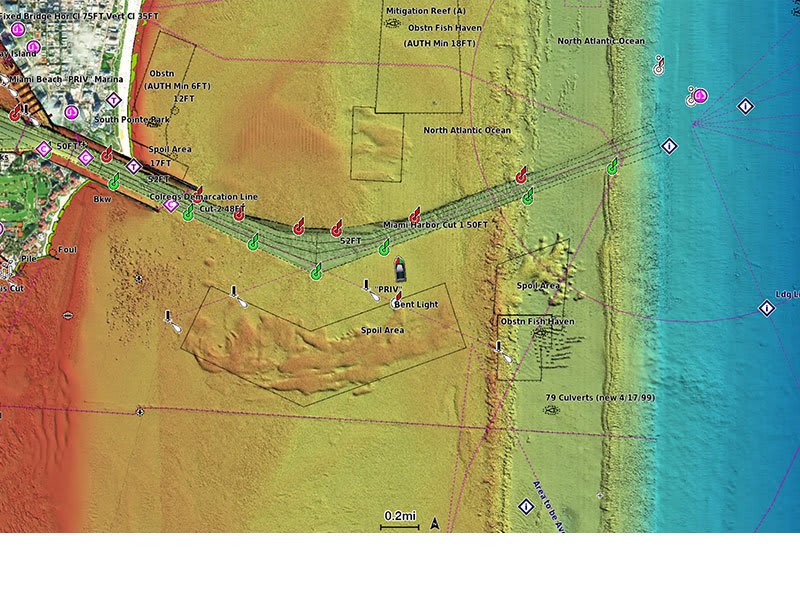 HIGH-RESOLUTION RELIEF SHADING
This detailed shading feature4 combines color and shadow to give you an easy-to-interpret, clearer view of bottom structure than contour lines alone.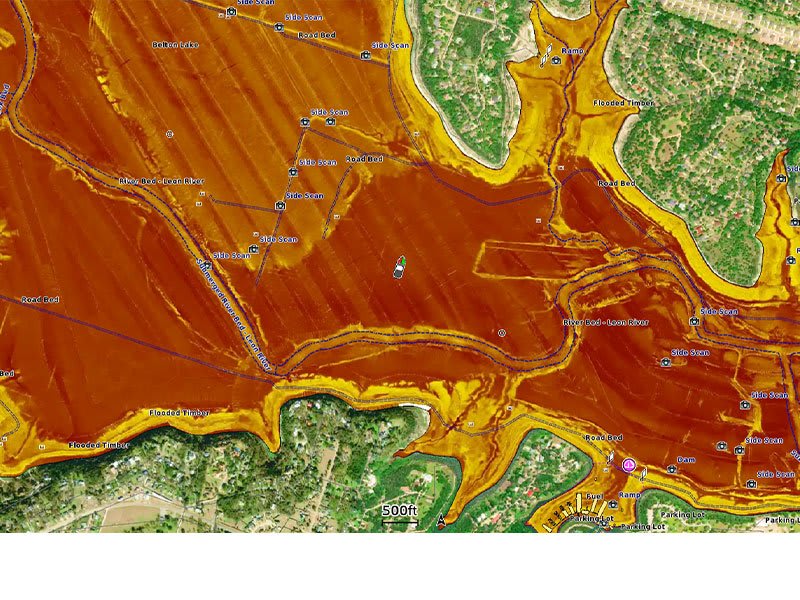 SONAR IMAGERY
The sonar imagery feature4 reveals bottom hardness clearly and in contrasting color, highlighting both subtle and dramatic transition areas on select lakes.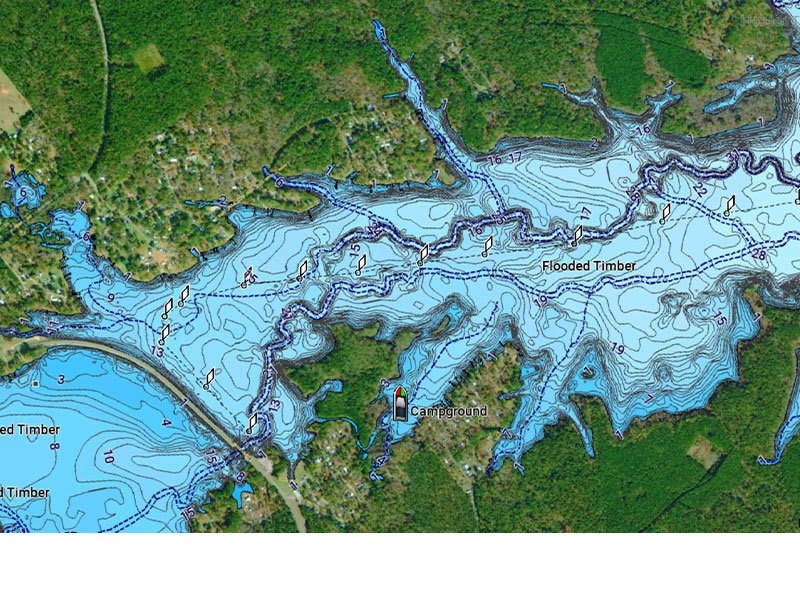 HIGH-RESOLUTION SATELLITE IMAGERY
High-resolution satellite imagery4 provides superior situational awareness.
AERIAL PHOTOGRAPHY
Crystal-clear aerial and surface photos of ports, marinas, bridges, docks, boat ramps, dams and navigational landmarks provide a better sense of your surroundings above the waterline.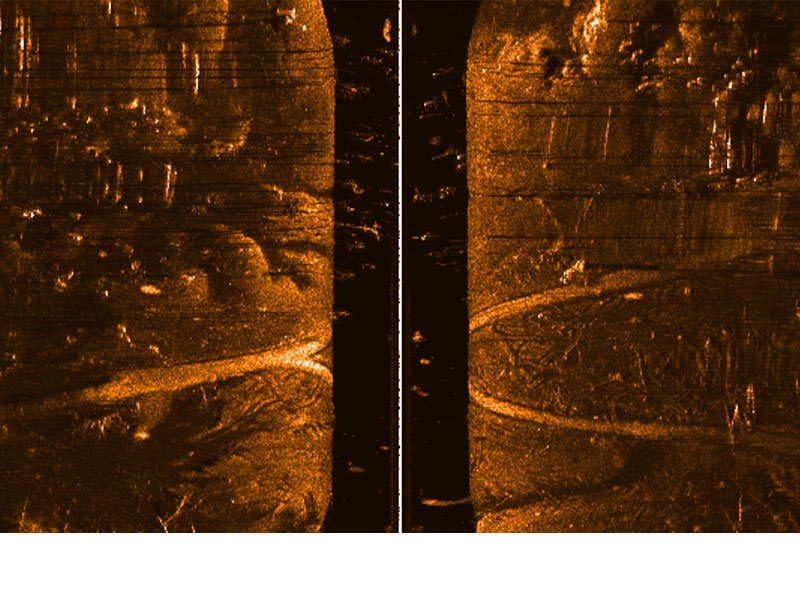 SIDE-SCAN IMAGES
Side-scan images capture submerged features such as fallen timber, fish attractors, wrecks, potential hazards and more on select U.S. lakes.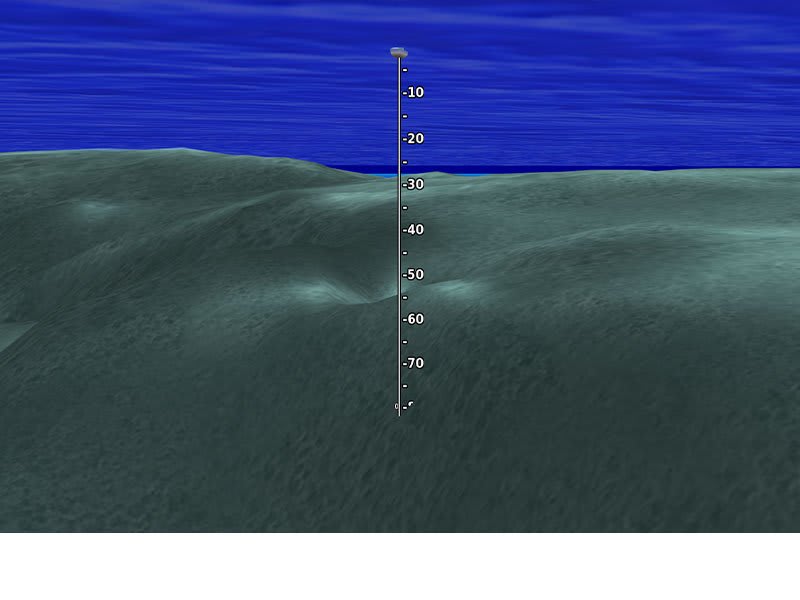 3D FISHEYE VIEW
This underwater perspective shows 3D representation of bottom and contours as seen from below the waterline. Interface with sonar data for a customized view.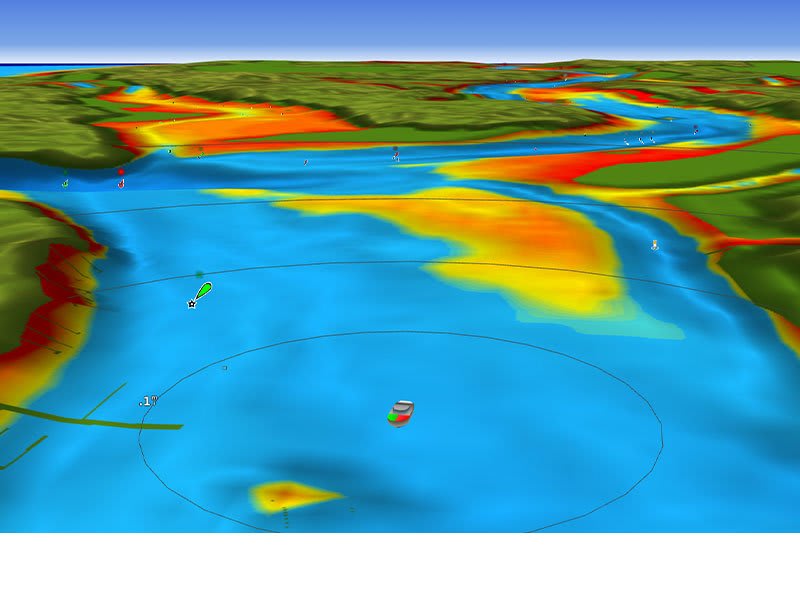 3D MARINEREYE VIEW
This view provides a 3D representation of the surrounding area both above and below the waterline.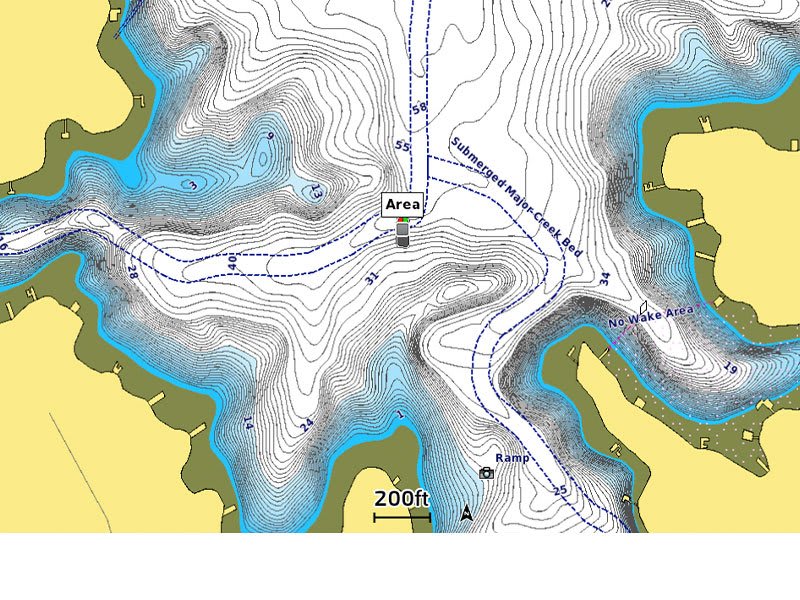 DYNAMIC LAKE LEVEL
Adjust your maps to the lake's current water levels to see if spots are accessible or too shallow to explore.
1

 
Based on 2020 reported sales
2

 
Auto Guidance+ is for planning purposes only and does not replace safe navigation operations
3

 
Raster cartography cannot be viewed on echoMAP™ CHIRP and ECHOMAP™ Plus combos but can be viewed on mobile devices via the ActiveCaptain mobile app
4

 
Subscription required; a one-year subscription is included with purchase of Navionics Vision+ mapping solution, lets you access daily chart updates and download additional content or premium features included with your cartography product
COVERAGE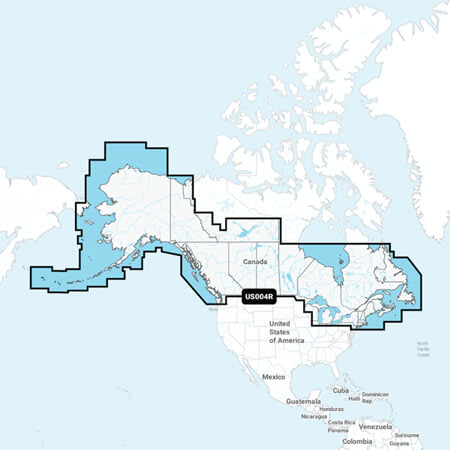 Detailed coverage of the Atlantic and Pacific coasts, inland lakes and waterways of Alaska and Canada (except YT and NU). Coverage includes the Aleutian Islands, Vancouver Island, Puget Sound, the St Lawrence River, the Maritime Provinces and the Grand Banks.
---
Customers Also Liked
---