---
---
Track Your Wellness and Fitness Activity with Style
Slim, smart fitness tracker¹ blends fashionable design with stylish metal accents and a bright, easy-to-read display
Includes advanced sleep monitoring with REM sleep and can gauge blood oxygen saturation levels during the night with the wrist-based Pulse Ox² sensor
Fitness and health monitoring tools include wrist-based heart rate³, all-day stress tracking, relaxation breathing timer, VO2 max, Body Battery™

 

energy monitor and more
Features dedicated activity timers for walks, runs, strength training, yoga, pool swims and others
Get vibration alerts for all notifications, including calls, text messages and more (text replies available for Android™

 

device users)
Battery life keeps up with you; lasts up to 7 days (excluding Pulse Ox sleep tracking) and is safe for

 

swimming

 

and showering, too
Accent your style while enhancing your fitness with our vívosmart 4 fitness tracker. This slim, swim-friendlywearable comes loaded with fitness and wellness features to help you make the most of a healthier, more active lifestyle. A wrist-based Pulse Ox sensor lets you estimate blood oxygen saturation while you're sleeping — or you can spot-check your oxygen levels anytime during the day. The device also monitors heart rate at the wrist and includes helpful tools such as all-day stress tracking, a relaxation breathing timer and VO2 max readings. Plus, Body Battery energy monitoring helps you know when you're primed to be active or when you may need to rest. Safe for the pool or shower, vívosmart 4 keeps you going strong with up to 7 days of battery life — while smart notifications with vibration alerts help you stay connected on the go (when connected to a compatible smartphone). 
Pulse Ox at Your Wrist
The Pulse Ox sensor on vívosmart 4 estimates your body's blood oxygen saturation level. Your Pulse Ox measurements are dependent upon a number of factors, including your overall health and fitness. Checking your Pulse Ox can help gauge how your body is absorbing oxygen. Turn on the feature to gauge your SpO2 overnight, or use it to take a spot measurement anytime to learn more about your body.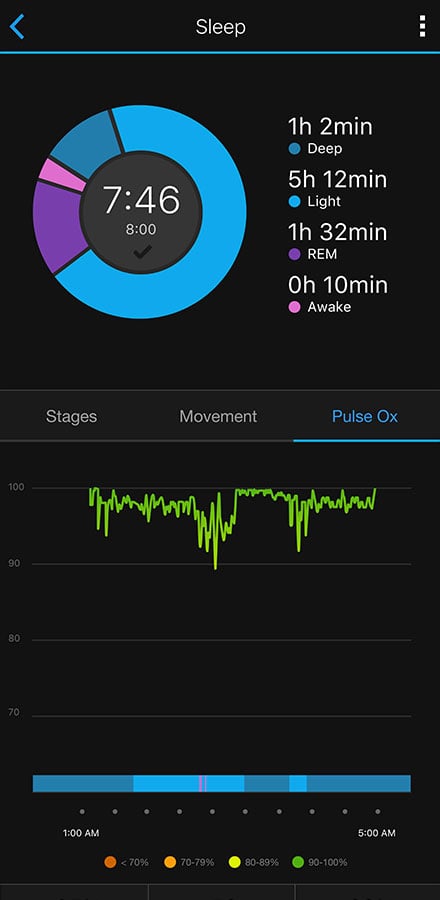 Advanced Sleep Monitoring
Sleep is important to your overall health, well-being and physical performance. To give you an idea of how you're sleeping, vívosmart 4 tracks your light, deep and REM stages of sleep, along with movement throughout the night. For added insight, turn on the Pulse Ox feature to view your blood oxygen levels during your sleep. When you wake up, you can easily review and compare your sleep stats in the Garmin Connect™ Mobile app.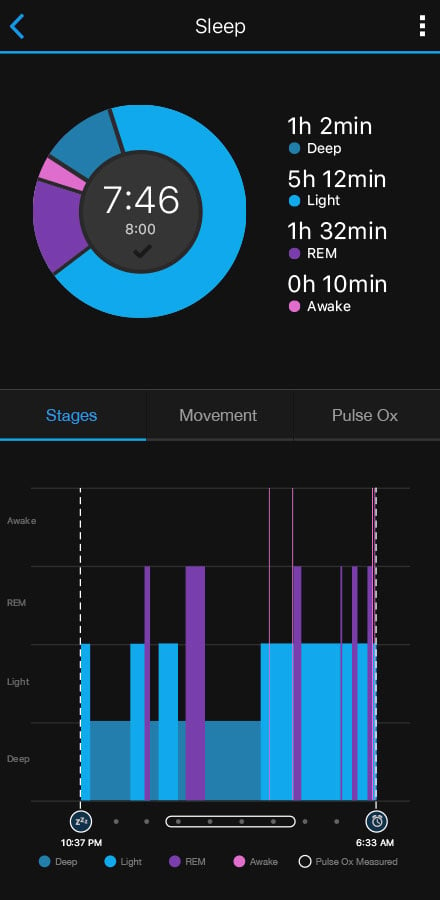 Optimize Your Body's Energy
Body Battery energy monitoring on vívosmart 4 uses a combination of stress, heart rate variability (HRV), sleep and activity data to gauge your body's energy reserves at any moment, so you can plan your day to optimize times for activity and rest. A higher number indicates you're ready to be active, while a lower number suggests you might need to relax and rest a bit before tackling a workout. Body Battery can also help you make sense of patterns throughout your weeks, so you can understand how the past few days have influenced how you're feeling today.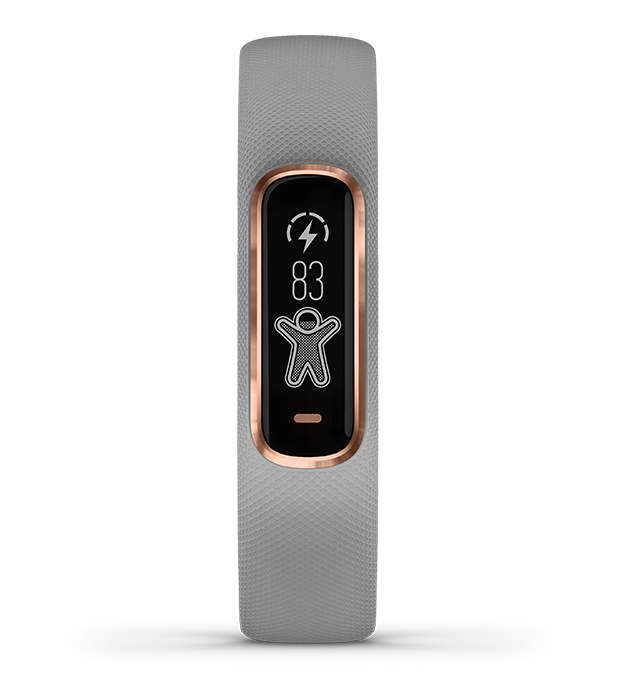 All-day Stress Tracking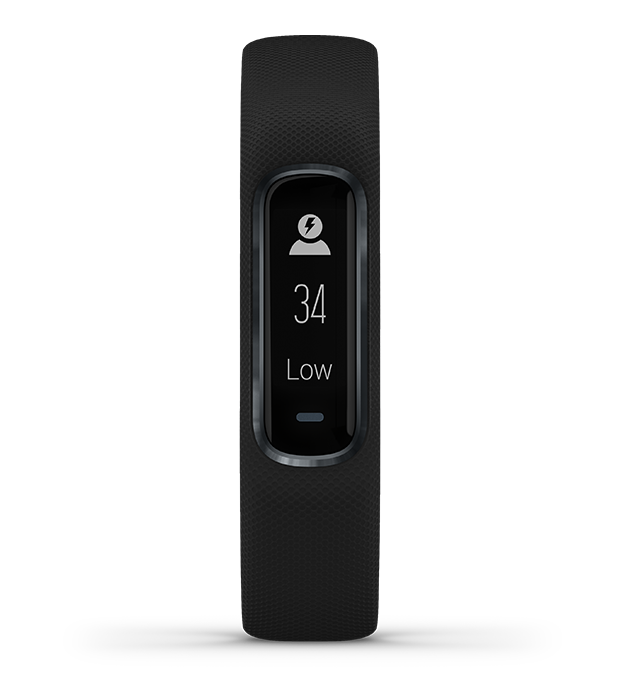 Track Your Workouts
You can use the preloaded activity timers to keep track of your exercise times and more. When using the strength training activity, it estimates your exercises, reps and sets along with your work and rest times so you can leave the notebook at home. And if you forget to start a timer, the Move IQ® feature on vívosmart 4 will automatically detect exercises such as walking, swimming, cycling and elliptical training — and it even starts timing select activities. When finished, your activities are pushed to Garmin Connect, our online community, where you can review, edit and share the activities with your connections and friends.  
Daily Fitness and Wellness Monitoring
Using the Elevate™ heart rate data collected from your wrist, vívosmart 4 can — with a VO2 max estimate — give you an idea of your current fitness level. In general, as your aerobic fitness increases, your VO2 max does the same. Based on your VO2 max, vívosmart 4 is also able to estimate your fitness age — a stat that you may be able to decrease over time with hard work and exercise. For added insight, vívosmart 4 will notify you if your heart rate unexpectedly rises above a threshold you've set. If you're inactive for more than 10 minutes and your heart rate stays above your set threshold, you'll get an alert.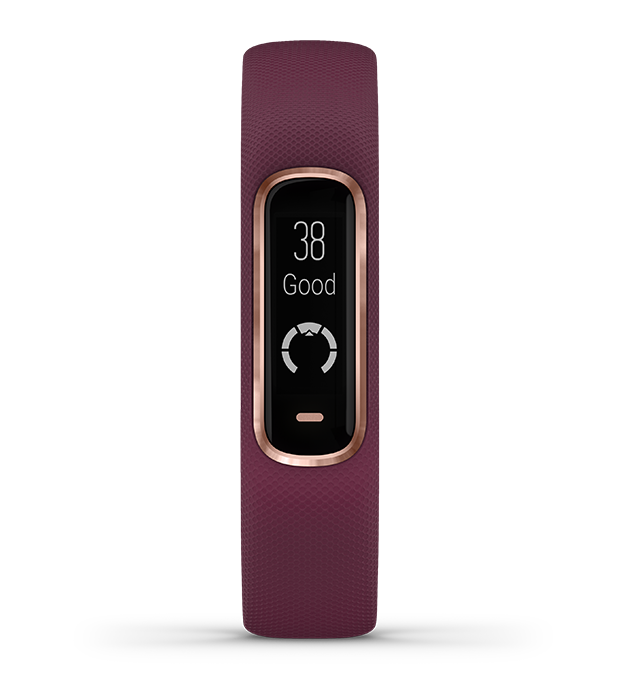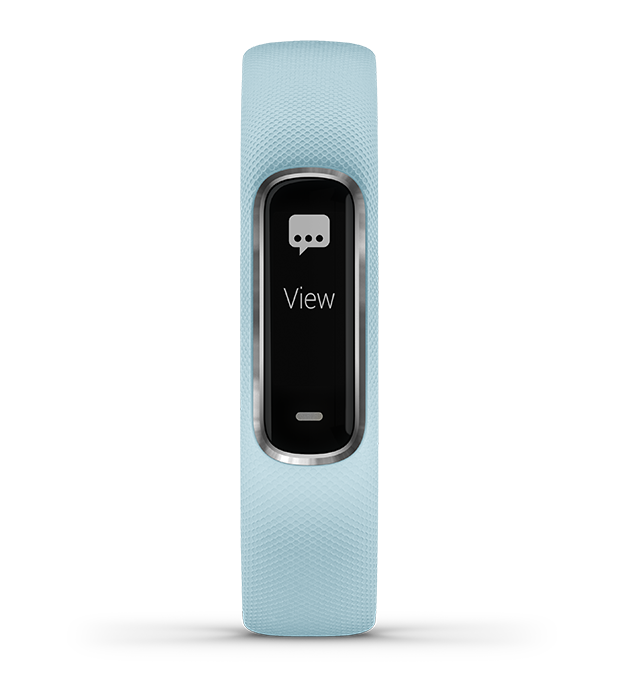 ---
Customers Also Liked
---