---
---
8-inch Fully Network Capable Chartplotter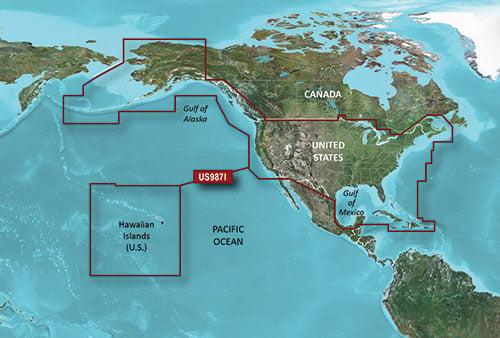 Preloaded BlueChart g2 Maps
In addition to basic charts, tidal stations, currents, depth contours, IALA symbols and included fishing charts, BlueChart g2 offers smooth transitioning between zoom levels and more seamless continuity across chart boundaries.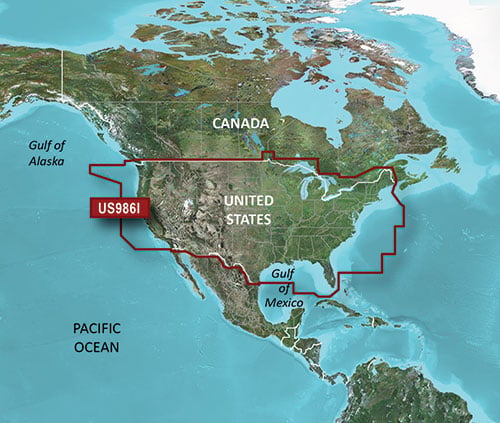 Preloaded LakeVü HD Maps
These highly detailed freshwater maps include 17,000+ U.S. lakes, rivers and reservoirs.
Garmin Marine Network and NMEA 2000 Support
Full-network compatibility allows you to add more capabilities to your boat. GPSMAP 7408 supports radar, autopilot, instruments, multiple screens, FUSION-Link, sensors, remote sonar modules, digital switching, thermal cameras, GRID rotary knob, joystick and keypad control, GXM™ 52 marine weather receiver and more.
Network Sharing
GPSMAP 7608 allows you to share features with other compatible GPSMAP units, such as radar, GCV 10 ClearVü and SideVü scanning sonar, GSD 24, GSD 25 and GSD 26 sonar modules, supplemental maps, and user data, including waypoints, routes and tracks. 
Heading and Position Refreshed 10 Times Per Second
Fast, responsive 10 Hz GPS/GLONASS refreshes your position and heading 10 times each second to make your movement on the screen more fluid.
Special Sailing Features
Supported sailing features include laylines, enhanced wind rose, heading and course-over-ground lines, true wind data fields and tide/current/time slider.
Compatible with gWind™ Transducers
Garmin gWind, gWind Wireless and gWind Race transducers feature twin-fin technology with 3-bladed propeller.
Black Box Interface
The GND 10 black box interface seamlessly integrates Nexus instruments and sensors with the Garmin family. 
Upgrade with the Best Maps on the Water
Two SD™ card slots provide expandable memory for accessory map purchases, such as LakeVü HD Ultra with Max Def Lakes or BlueChart g2 Vision 
FUSION-Link Entertainment System
Enjoy the ability to control all compatible FUSION-Link-enabled audio systems directly from your compatible chartplotter display.
The Ultimate Connected Boating App
Built in Wi-Fi gives you access to the free all-in-one ActiveCaptain® app!
Enhanced Auto Guidance
Just enter the location where you want to go and patented Garmin Auto Guidance² technology instantly searches through relevant charts to create a virtual pathway on the display that helps you avoid low bridges, shallow water and other charted obstructions en route.
Simplified SOS Calling 
This exclusive SOS safety assist feature makes it easier for anyone.
GPX Waypoints Transfer
If you have waypoints, tracks or frequently used routes stored on another manufacturer's GPS product, now it's easier than ever to transfer those items to your new Garmin chartplotter!
Panoptix™ Down Transducer
With 1 Panoptix Down transducer, you get 3 remarkable views, allowing you to actually see fish and bait swimming around under your boat – in real time. You can even see fish in the water column in 3-D, from the bottom to the surface.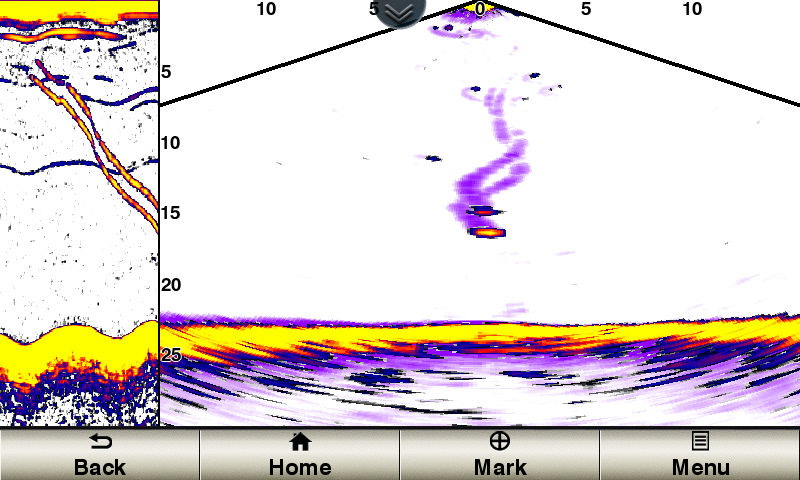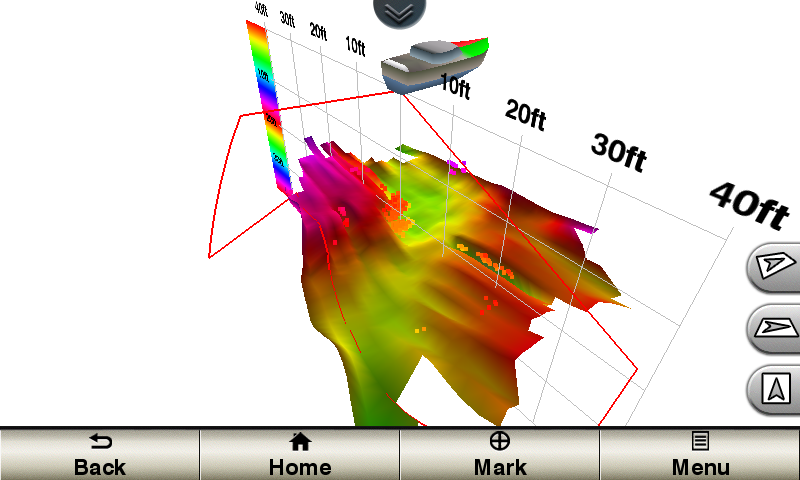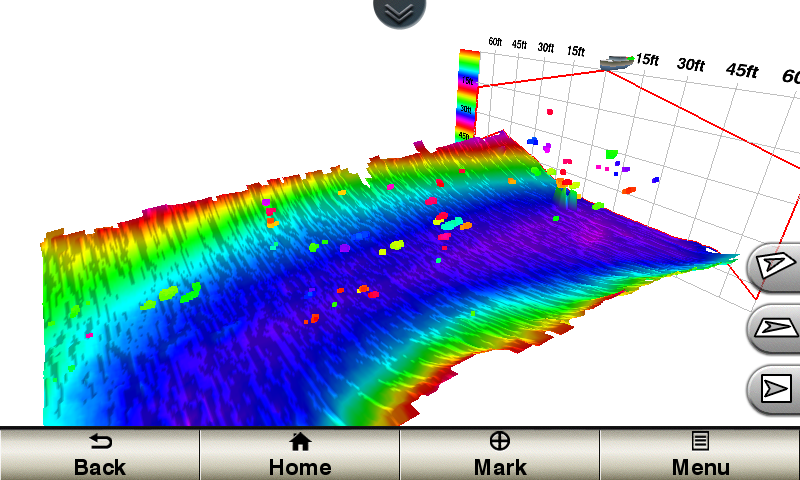 LIVEVÜ DOWN
Shows real-time moving sonar images below the boat. This screen shows bait drop echo trail movement in purple with sonar history data at left.
REALVÜ 3-D DOWN
Scans the area below the boat from front to back and side to side. This screen shows a school of fish sitting against the back side of vertical face, on Pport side of boat 35 feet deep.
REALVÜ 3-D HISTORICAL
Scrolls through the data as the boat moves to show the history of entire water columns – from the bottom to the surface and all of the fish in between.
Panoptix Forward Transducer
One Panoptix Forward transducer provides 2 impressive views, even while your boat is stationary. It shows the bottom plus fish and bait swimming in the water column in front of your boat – in real time.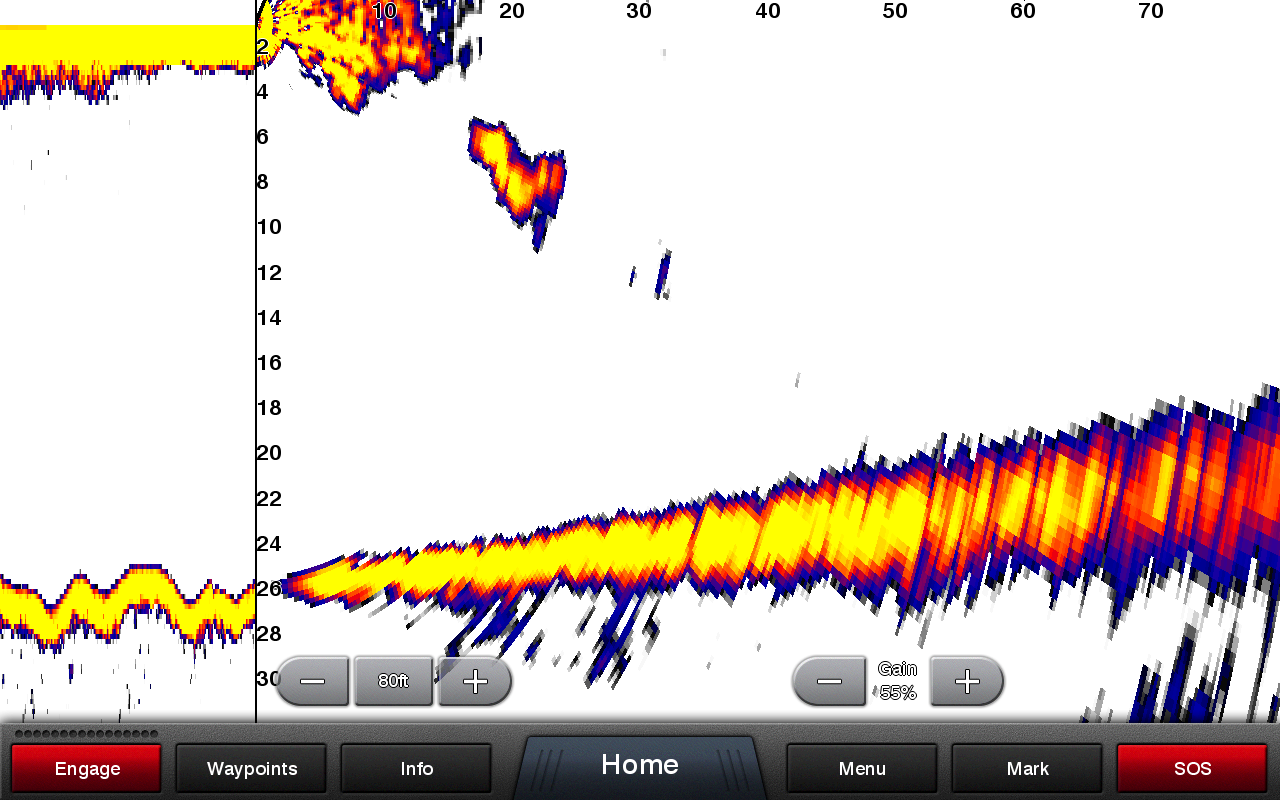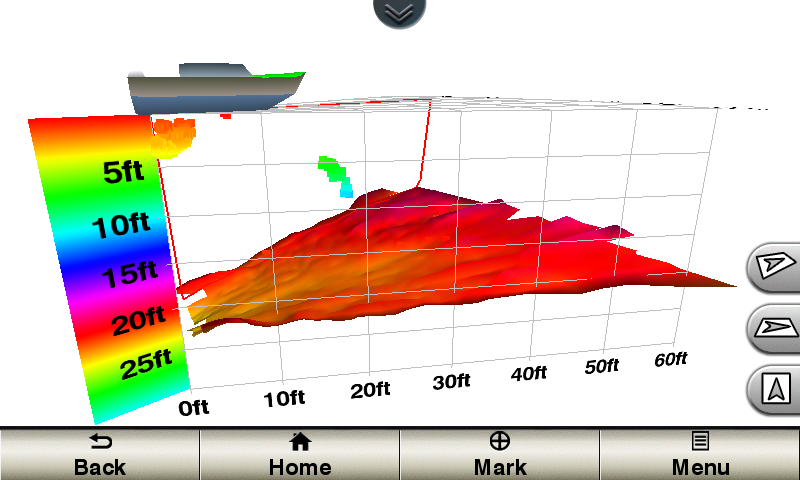 LIVEVÜ FORWARD
Updates are provided with a single ping, providing real-time moving images of what's in the water. This screen shows a large target (a diver) approaching the boat.
REALVÜ 3-D FORWARD
Digitally scans the area in front of the boat, creating a forward-looking 3-D view of the bottom, structure and fish. This screen shows fish targets at 10 feet and drawing bottom depth of 20 feet.
Multiple Depth Range Shading
Designate up to 10 different depth ranges each with its own color. Makes it easier to view target depths at a glance.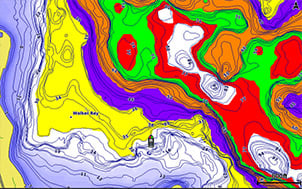 ---
Customers Also Liked
---