D2 Delta PX for High-flying Aviators
Featuring a full-sized (51 mm) form factor with an elegant titanium gray diamond-like carbon (DLC) finished bezel and bracelet-style watch band plus scratch-resistant domed sapphire crystal lens, the D2 Delta PX model is our most evolved, most sophisticated aviation wearable to date. 
Check Oxygen Saturation
The Pulse Ox sensor on D2 Delta PX uses light beams at your wrist to determine the percentage of hemoglobin in your bloodstream and show your body's oxygen saturation level.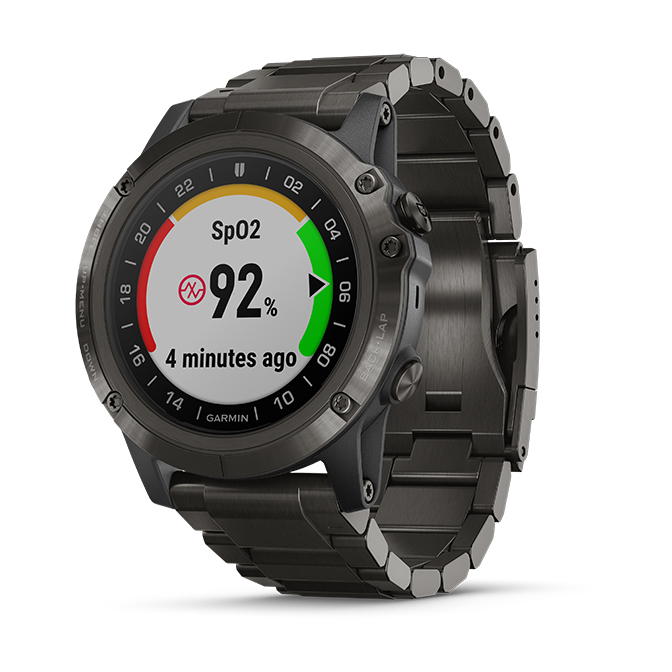 Fly Direct-to or Navigate Flight Plans
Using its built-in worldwide airport database, the D2 Delta PX aviator watch lets you access our signature Direct-to and Nearest routing functions by simply pressing either of 2 dedicated buttons.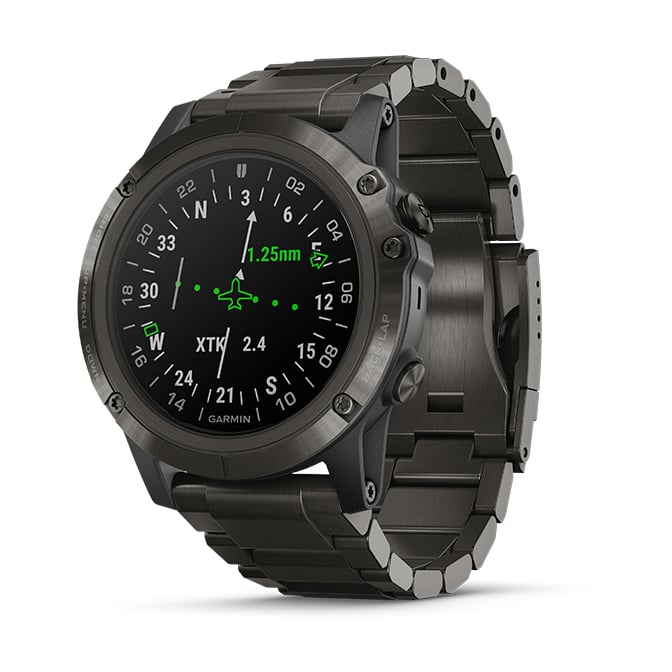 Enhanced Cockpit Connectivity
For even more work-saving convenience, you can add our Flight Stream 510 wireless gateway (sold separately) to your cockpit avionics system, allowing you to use our Connext® technology to stream information between your compatible Garmin GPS navigator and your D2 Delta PX watch. 
Sync up Your Flight Plan
In addition to the data streaming features, there's another advantage to having the optional Flight Stream 510 in your aircraft. When connected to your D2 Delta series, Flight Stream 510 will automatically transfer flight plan changes from your compatible avionics to D2 Delta. 
Weather with Radar Overlay
For at-a-glance updates on the weather, D2 Delta PX works wirelessly with your compatible smartphone to keep you informed. You can access location-based meteorological reports (METARs) and terminal forecast (TAF) information — including winds, visibility, precipitation, cloud cover, temperature, dew point, barometric pressure and more.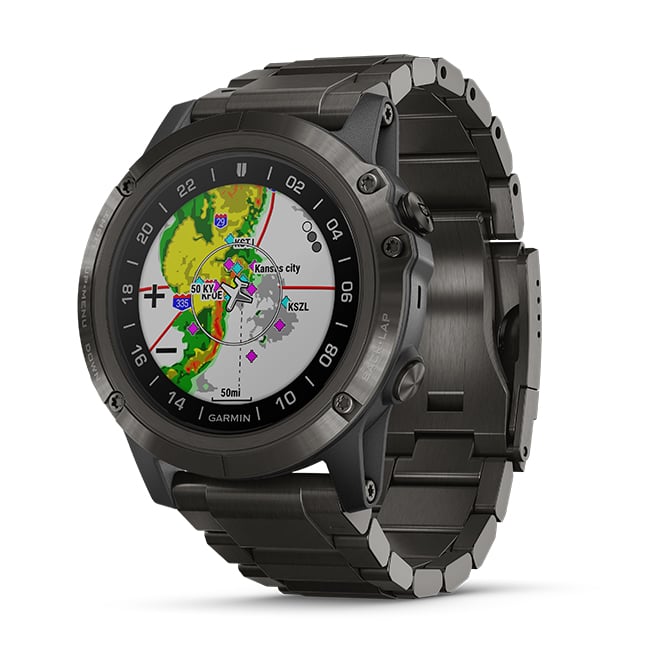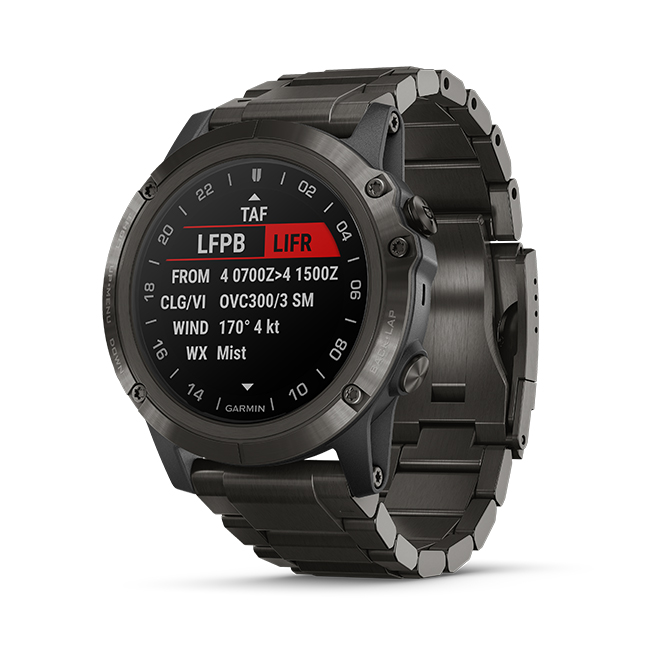 Flight Logging Is Automatic
With wireless connectivity to your smartphone, the D2 Delta series can make quick work of flight logging and other record keeping tasks. During takeoff, the watch will detect your aircraft's change in altitude and automatically initiate the logbook function — recording date, duration, total flight time and route. Then after your flight is complete, it will sync this logbook data via your smartphone to flyGarmin.com® and the Garmin Pilot app for safekeeping.
Customizable Features
Customizable data fields on your D2 Delta PX watch let you easily access the data that's most important to you — such as current GPS groundspeed, GPS track, distance from waypoints/airports, estimated time en route, bearing, glide ratio and other key flight parameters.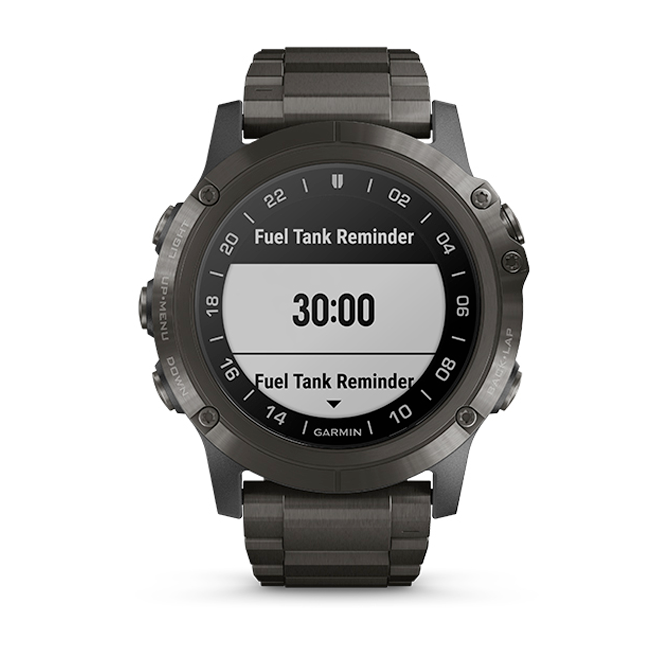 Advanced Multisport Features
Beyond its full range of flight-related functions, D2 Delta PX also offers a complete feature set of sports/training, fitness and outdoor navigation tools. You can tap into an array of physiological metrics, running dynamics, fitness tracking features and more — so you can monitor your workout stats, measure your progress and help avoid injury.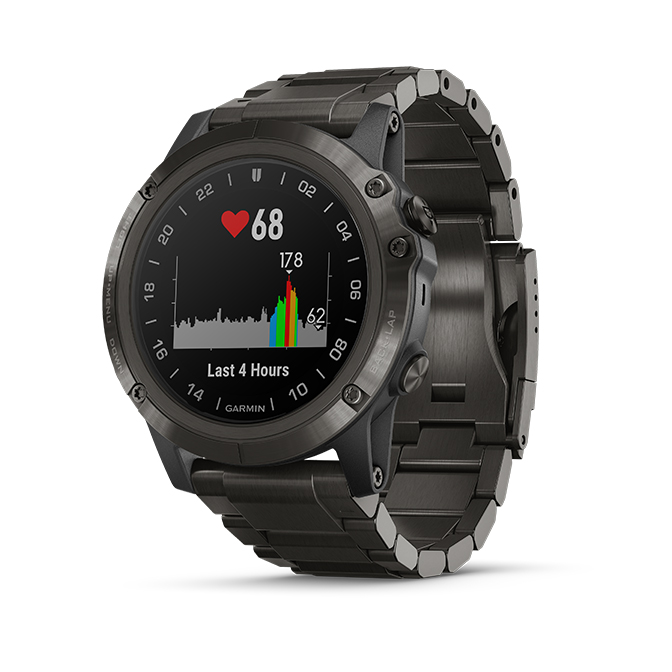 A Little Traveling Music
Wherever you are — in the air or on the land — your favorite tunes are always right at hand, thanks to your D2 Delta PX and its on-device music storage for up to 500 songs.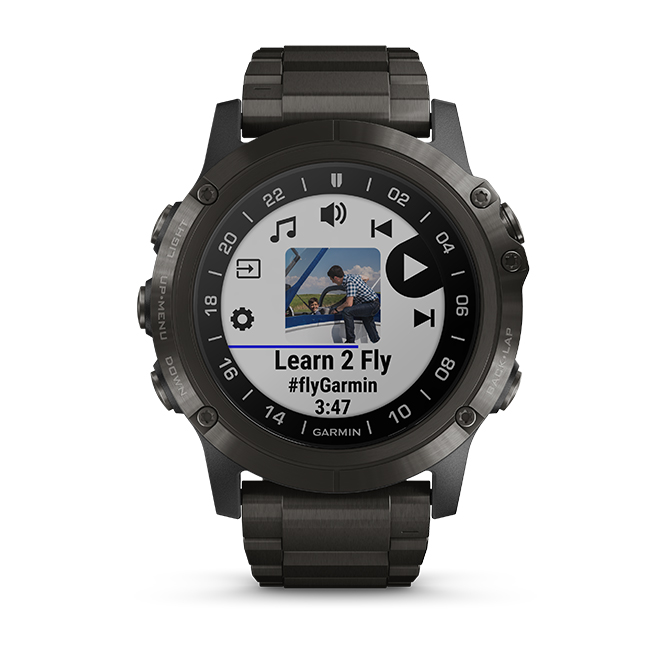 Pay with a Wave of Your Hand
To help keep pace with your active lifestyle, all D2 Delta watches feature our Garmin Pay contactless payment solution.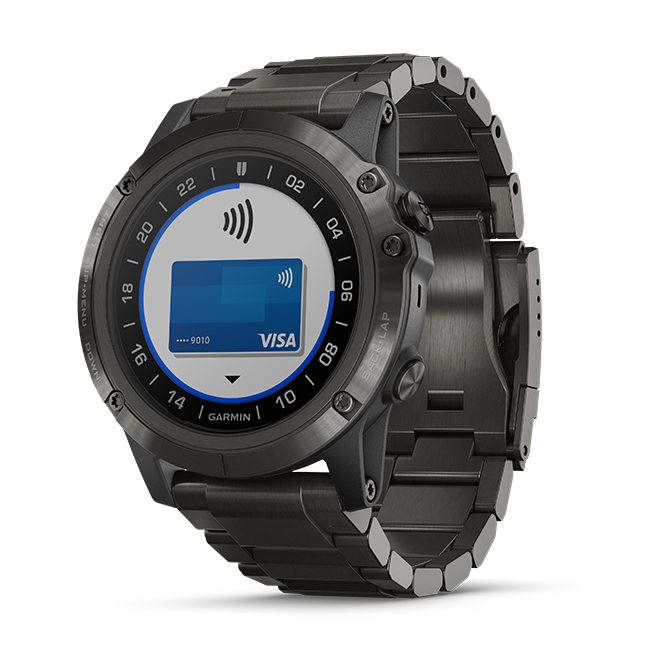 Custom Apps, Watch Faces and Bands
Want to express your individuality? It's easy to customize your D2 Delta PX watch with free downloads from our Connect IQ™ store.